Maitreya Kit Update
We've released a non-essential update for the Maitreya Relay Kit.
Basically, we've added a small menu with some de-bugging options, to bring it up, simply click on the relay.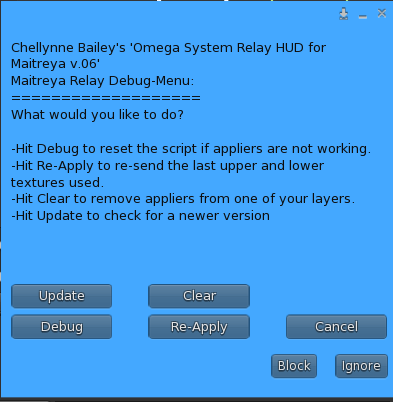 -Update: No more looking for koisks and delivery buttons in your inventory. Click it, and if there's something newer, it will be delivered.
-Clear: I never understood the need…but after 678million inquirys… there..there's a button for that. Click it and it'll clear off a layer of your choice.
-Re-Apply: Some well-meaning designers have gone rogue, and despite my protests combined multiple appliers into a single button, creating race conditions in some meshes, including this one. If you ever find one of these appliers, this will fix the issue.
-Debug: This will reset the whole mess.
How to get the update: