Instructions for Catwa
Part One: Using Omega Appliers
Step One: Wear your Catwa Mesh Head
Step Two:  Attach the "Omega System Relay HUD for Catwa"
Step Three: Use your Omega Applier
Part Two: Advanced HUD Controls
If you click on your relay hud, it will open up to show more advanced controls.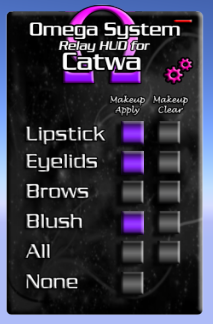 Minimize Button: The red dash in the upper right will close the hud again.
Settings Button: The Pink Gears Button near the upper right will bring up a menu.
Update: Check for HUD Updates
Clear: Clear selected Layers
Re-Apply: Apply the last make-up or tattoo to the selected layers.
Debug: Resets the HUD.
Makeup Apply Buttons: Select and deselect which sections will be textured when Makeup appliers are used. (Also affects what sections are affected when Settings Menu Re-Apply and Clear buttons are used)
Makeup Clear Buttons: Clear makeup sections
---
Part Three: Makeup Tester
Before you run off and buy makeup and tattoos for your head, a very important part of mesh head ownership is knowing where the makeup sections are. This will save you grief when you shop if you know where on the face to expect cut-offs.
In the kit you'll find a "Omega Advanced Applier – Makeup Tester".  This applies a rainbow texture to all selected makeup areas. Play with it and the different sections listed on the hud to see where each section is mapped. When you are done, the clear buttons will remove the rainbow from your face.
Thats it, enjoy!
-Chellynne Bailey
Omega Solutions – Home of the Omega Applier System