Omega Applier System Kit for SKING

If you've not already purchased the Sking Kit, you can purchase it here:
https://marketplace.secondlife.com/p/Omega-System-Kit-for-Sking/6144521
Part One: Using Omega Appliers
Step One: Wear your Sking Butt, Body or Head.
Step Two:  Attach the "Omega Applier Relay for Sking"
 This should be visible at the top of your screen.
Step Three: Wear and use your Omega appliers.. (make sure the Relay stays attached!)
Part Two: The Menu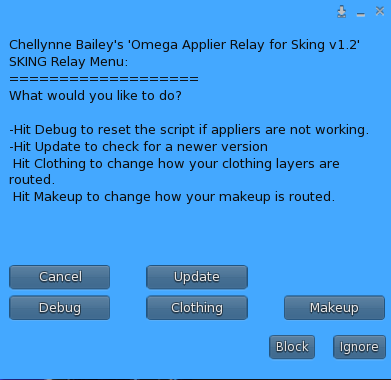 If you click the hud, you'll notice the window on the left pops up and gives you some extra options.
~Update: Checks for newer versions of the HUD.
~Debug: Resets the HUD. Use this if it's giving you trouble.
~Clothing: Gives you options for clothing routing. Have an applier that is the wrong layer? This will let you wear any applier on any of your available layers.
~Makeup: Gives you options for Makeup routing. Da Face is unique because it has 3 FULL face layers, Tattoo, Makeup and Hair, while our appliers only have 2  buttons (makeup and tattoo). This will let you control where Makeup appliers go, to the Hair or to Makeup Layer.  (Tattoo appliers will always go to Tatt. )
How to get your Phat Azz appliers to work:
Unlike Tango Appliers, Phat Azz Appliers must be converted to Omega before you can use them!
For How to convert your Phat Azz Appliers, follow this link:
http://slpoweredbyomega.com/basic-notecard-converter/
(This also works for Banned, Perfect and other Appliers that use Phat Azz NCs!)
Thats it, enjoy!
-Chellynne Bailey
Omega Solutions – Home of the Omega Applier System
FAQ
Why is the Tattoo Button not working on my Brazillia Doll Body?
Pre-Gen  5 Brazilia Bodies call their tightest layer a "Tattoo" layer, but for us it's a Bra/Undies Layer. Normally we'd go ahead and send both tatts and undies to a layer like this, but some technical mumbo jumbo prevented it in this case. 🙂  So just use the Bra/Undies button for that layer. 🙂
If however you have a gen 5+ body, you likely need a kit update!
Update Log:
5/2016 – Update for Gen 5: Sking has added a Tattoo Layer for their Brazilia line! Gen 5+ users will need a new relay
4/17/2015:  The Brazilia, Sking(Male) and Sking Muscle 3.0 Kits have been combined into a single kit with a single relay.
10/27/2015: We now support "Da Face"!