Omega System for Colossi
The Details: 
Reminder: We do not REVIEW meshes, only list features and specs. 
Standard + Pre-scripted Layers: Gen 1 Uses a Drop In Script for the Body and Head and Prescripted Clothing Layers.
Pre-Installed: Gen 2 Comes with Omega Built Right in!
Materials Ready: yes.

Applier Checklist:
Gen 1: 1 Unattached Clothing Layer that does not extend over the hands and feet.
Gen 1: No layer over the face
Gen 2: 2 Attached Layers that extend over the feet,
Gen 2: 1 of the layers extends over the hands and face.
Makeup
Gen 1: No Makeup Layers
Gen 2: Head Supports 4 Makeup  Zones.

Hairbase
Lips
Eyeshadow
Cheeks
Head and Neck
Head is included, hide-able, but neck does not fit SL heads.
Gen 1 Alpha HUD :  N/A
Gen 2 Alpha HUD: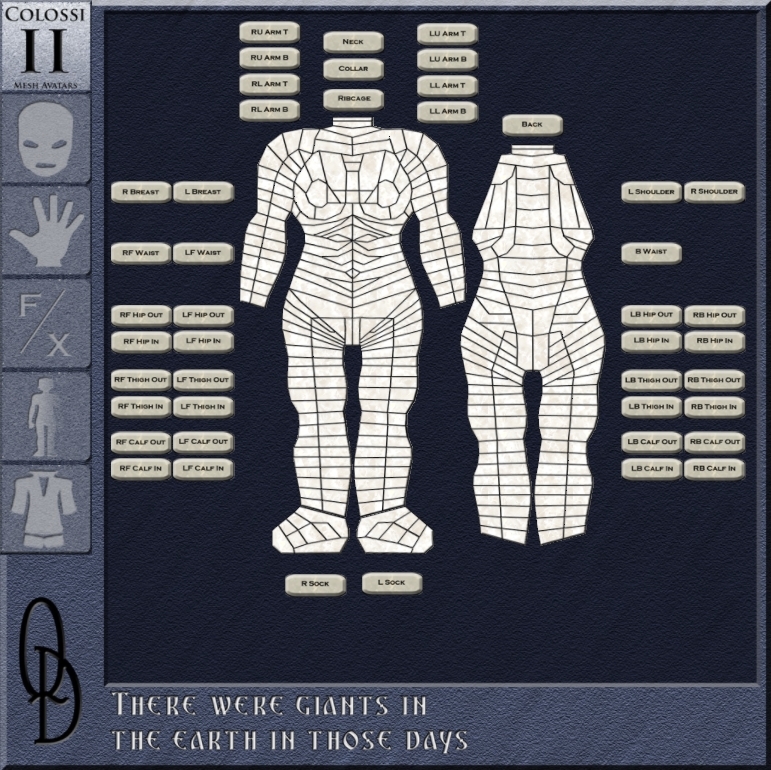 Nipples are not separate and do not use the Tango Nipple UV
Is it Fitted?
Gen1: nope
Gen2: A Little Bit. There's some ability to modify ones shape, but it is limited in areas.
(Hint: DEMOS ARE AWESOME)
Gen 1: 1500L
Gen 2:  1800L for Fairy Tail and Legendary Sets (3 sizes each)
Gen 2: 3000L for the Colossal Set (all 6 sizes)
 Where Can I get the Kit?